Today, desktops and laptops have become a thing of past and the world is moving towards smartphones and tablets. Therefore, to make sure that your business remains technology-friendly, you need to revamp its structure and model so that your website becomes fit for mobile devices.
Win Infosoft offers enterprise mobility solutions in an alliance with tech giants like Oracle & IBM. We have tons of relevant experience and expertise in using cross platform app development tools. We can create scalable & rapid models, in-house solution accelerators & frameworks and IP. We also work in the capacity of strategic partner ecosystem in social, analytics, mobility, and cloud space.
Our team has experience in providing different industry verticals with all types of enterprise mobility solutions including insight tools, workflow, productivity, sales automation and more.
Here's what you get when you hire us for this vital service: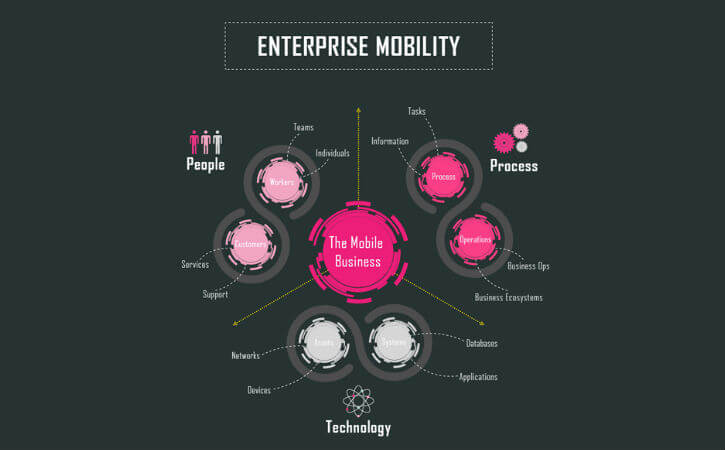 Testing & QA
We perform testing and quality analysis on existing and upcoming mobility solutions. It ensures that the solutions become more popular among the end users and perform optimally even when the user is on the move.
BI & Analytics
We will use this tool for mapping the success of enterprise solution. It enhances the end-user experience and records the performance of the solution. This data is analyzed to assist further decision making process.
Digital Content Rendering
The content of the enterprise solution is created from scratch. The content is build taking in view your clients, to ensure that the message delivered through this content is precise and flawless.
Mobile Support Management
We offer consistent 24*7 support to the users of the solution. The users will be require to raise a ticket and their queries will be resolved instantly.
Operations Management
The users and the administrators also get day to day support so that the enterprise solution proves to be a great success. The administrators are given more control and the users enjoy an ease of use. The operations, security, performance and availability of the app are enhanced without fail. This will increase business productivity and makes employees more efficient, it's assured!!